City Utilities
The City of Rector provides water utility services. Other amenities such as cable, telephone, internet, sanitation and gas services are provided by third party suppliers.
---
Rector Water Department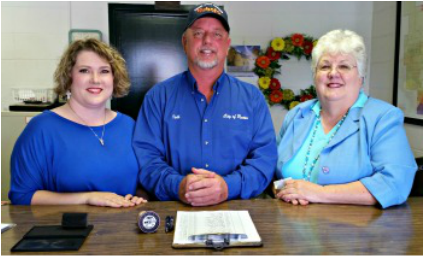 Rector Water Department — located at City Hall at 409 Stewart Street.
Hours of operation: Monday – Friday 8:00 a.m. to 5:00p.m.
Phone: 870 595-3035.
Members of the utilities staff include:
Administration — Shawn Brandon, mayor; Kim Romine, administrative assistant, Linda Robinson, Rector Water Department office manager
Water/Sewer Maintenance — Todd Watson (superintendent), Brad Green and Jerry Mansfield.
Street Dept. Maintenance — Todd Watson (superintendent), David Jones, Mike Dowdy & Matt Griggry.
Also summer employees – Steve Horton and Eric Cole
---
City Maintenance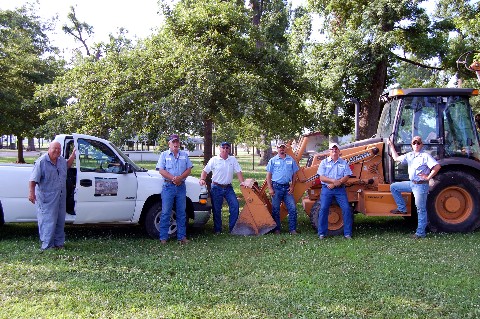 The city maintains a modern water/sewer system with three deep wells, a 250,000-gallon storage tank and a lagoon/sand-filter sanitation system. Additionally, the city recently purchased several generators to maintain the water/sewer system in the event of an emergency, as well as provide electricity for the city hall and community center.
Smith & Company our of Poplar Bluff serves as the city's engineer.
Animal control
The city also maintains an animal control center. Animal Control Officer, David Jones is responsible for the facility and for responding for reports of stray animals. The animal control facility is located at the end of South Main Street. You can contact them Monday through Friday between 9:00 a.m. and 3:00 p.m. at (870) 240-3035.
Other Service Providers
Sparklight TV, Internet, and Phone – Part of the CableOne family of Brands. Sales 877 687-1331. Visit the website for information on services and bundles. http://sparklight.com
AT&T Internet/TV — www.attsavings.com/internet-plans At&T Internet/TV Latino – www.attsavings.com/es AT&T Existing Customers www.attinternetservice.com/call/
​Satellite Internet — Exede Satellite Internet Services: http://www.exede.com
Satellite Internet — Hughesnet Satellite Internet Services http://internet.hughesnet.com/satellite-internet/
Electrical — Entergy Arkansas, headquartered in Blytheville; customer service/emergencies, 1-800-368-3749; power outages, 1-800-968-8243; area office, 221 SW 2nd, Walnut Ridge, AR, 870-886-3521. http://www.entergy-arkansas.com/
Natural Gas — Black Hills Energy, 3078 E, AR-150, Blytheville, AR 72315 :emergencies (day), 1-888-890-5554. http://www.blackhillsenergy.com
Solid Waste — Shelton Sanitation, P.O. Box 328, Rector, AR 72461, phone 870-597-2000. http://sheltonsanitationinc.com
Security – ADTSecurity, yourlocalsecurity.com/packages
Home Security – Vivint.Security https://vivint.security/ 113 W 9th St, Suite 3C,  Rector, AR 72461 – Phone (855) 848-4681. Robert Lang local retailer.