rector History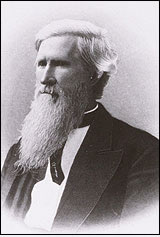 Our Beginnings
The town of Rector, Arkansas is named for Henry Massey Rector (1 May 1816 – 12 August 1899). Henry Massey Rector was born near Louisville, Kentucky. Rector was educated by his mother and attended one year of school at Louisville. He moved to Arkansas in 1835.
During his lifetime, Rector served in various public positions including a short time as a U.S. Marshal. He also served in the Arkansas Senate from 1848 to 1850. Henry studied law and was admitted to the bar in 1854. He served as U.S. Surveyor-General of Arkansas for several years. From 1855 to 1859, he served in the Arkansas House of Representatives. Rector also spent one term as a justice of the Arkansas Supreme Court.
Rector was elected Governor of Arkansas in 1860. During his term, Arkansas seceded from the Union and was admitted to the Confederate States of America. The constitution of Arkansas was rewritten reducing the term of office of Governor to two years. Rector left office in 1862 and served as a private in the state militia for the remainder of the war. Rector participated in the 1874 constitutional convention.
Rector was the first cousin of Representative Henry Wharton Conway, Governor James Sevier Conway and Governor Elias Nelson Conway. Rector was also a third cousin of General James Lawson Kemper. His grandson, James Rector, was the first Arkansan to participate in the Olympic Games. His son, Colonel Elias W. Rector, ran for Governor of Arkansas twice and served in the Arkansas House of Representatives for several terms, served as Speaker of the House, and married the daughter of Senator James Lusk Alcorn of Mississippi.
Henry Massey Rector died in Little Rock, Arkansas.
Our Heritage
When Rector was incorporated on September 13, 1887, it was already a thriving little community, with the first of the new residents settling in Scatterville. Prior to the Iron Mountain railroad in the western district, Scatterville was most likely the largest village in the county of Clay. However, in 1882 the St. Louis and Southwestern railroad was constructed down the eastern edge of Crowley's Ridge as far as Paragould, at which point, the Scatterville businesses began to migrate to the railroad, and the town of Rector was born. The railway brought with it much needed commerce and transportation abilities, which further assisted our burgeoning town.
With respect to Rector's history, knowing where we come from and how we got here helps us to know how to plan for our future and our children's future. Because our world is changing so fast technologically, we need to grow with all of the positive, life-affirming discoveries, but at the same time without losing site of the tangible treasures of our historic past. Why? Not only is it the right thing to do to preserve our forefathers' vision and results of the sweat of their brow, but because it makes sense from an economic perspective. Who could possibly build a totally brick structure with today's costs, incorporating a beautiful and original facade, beaded ceilings, expansive windows, and all with a sense of character and history? It would be cost prohibitive. Why do people flock to other towns that have respected their past and maintained their historic buildings? The aspects of beauty and charm are certainly obvious, but it's something more I think, when one realizes that once these treasures are gone, they are gone forever. There's also something wonderful about standing in the same buildings that my grandfather and his father lived and worked in: a sense of connection and belonging.
Let us congratulate the people who have made wonderful contributions to the maintenance and preservation of their businesses and homes, regardless of when they were built — to the Garden Club, Beautification Committee, and countless individuals who have maintained and appointed the parks in downtown, on the highway and at the Community Center, with landscaping, statuary and memorial bricks, to make a beautiful visual impact, as well as a source of community pride.
Rector is the best place in the world in which to be born, to grow up, to move back, or to move here for the first time, because of the wonderful people who live here. In the joy of life, and in its sorrow, the people of this town are there for one another. Let us all continue to work toward keeping our wonderful town alive and vibrant!
"We are looking toward the future by rescuing our historical past."