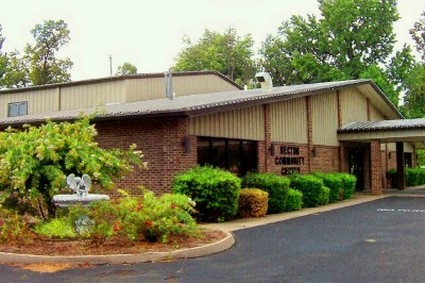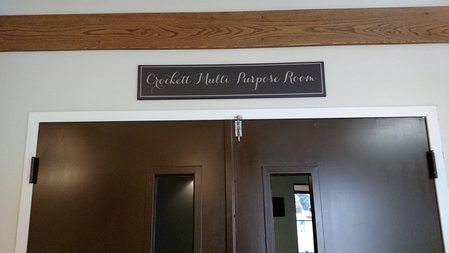 Rector Community Center
Rector residents are extremely proud of the city's beautiful community center, located among the trees in Memorial Park on Highway 49.
The facility, which opened in 1992, features a large multi-purpose room with stage, concert lighting, sound system and dressing rooms. It also offers a dining room with commercial kitchen, a meeting room and office area.
Prior to the opening of the new center, the community had no central location for hosting the many community events that are now frequent occurrences. Concerts, dinners, plays and reunions have become common and recurring events at the center. It is the home of the following annual events: "The Night of Chocolate" presented by the Clay County Arts Council, "The Ultimate Oldies" concert, the Chamber of Commerce Banquet, the Community Christmas Reception, the Community Chili Cook-off and the semi-annual Arts & Crafts Fair.
The Community Center has also become the site for a number of community services. It becomes the City's polling location on election days and hosts periodic blood drives. When the State was going to close the local Revenue Office, space was allotted in the Community Center and the Revenue office remains there today. It is a meeting place for several local organizations.
During the severe ice storm of 2009 the facility became a staging area and provided temporary shelter for residents without heat. Volunteers served more than a thousand free meals a day while the city was without power.
The building was constructed through years of donations and fund raisers by community residents, a state grant and the special contribution of Mr. and Mrs. Robert Crockett. Donations of $1,000 or more are recognized in the center lobby, but all gifts were greatly appreciated in making the facility a reality. Donations still are needed for the maintenance and operation of the facility and persons wishing to contribute may contact the center at (870) 595-2188 or Rector City Hall at (870) 595-3035.
When the State was going to close the local Revenue Office, space was allotted in the Community Center and the Revenue office remains there today.
Linda Robinson is the current director of the community center. She replaced Nelda Chadwick who served for many years as director and was instrumental in the success of the facility. Linda is assisted by Debbie Robinson, Jane Huffman and Alma Webb. The Community Center's office is open from 8 a.m. to 10:00 a.m. Monday through Friday and at other times for civic events or rented use. The public is encouraged to use the facility. For information, please contact the community center staff.
The Rector Community Center is operated by the city under the supervision of a volunteer committee. Members are: Linda Robinson, Eva Mae Clardy, Jessie Malin, Robert Plante, Jane and Clarence Huffman, Charles Faught, Martha Thompson, Kim Romine, Susie McCarroll, Jane and Marvin Gatewood, Sarah Pruett Miner and Christa Hedrick.
Visit our facebook page to keep up with our current activities: Rector Community Center.  https://www.facebook.com/Rector-Community-Center-214868041880952/
If you would like to be on a mail or email list to receive notification of upcoming events at the community center send your name and address to the Rector Community Center Highway 49, Rector, AR 72461 or email RectorCC@hotmail.com.
---
Notice: Please Share:
The Rector Community Center will be closed to the public beginning, Tuesday, March 24, 2020. If you have any business with the Rector Community Center please call 870-595-2188 or 870-595-3035.
This will not affect the Arkansas Revenue Office. They will maintain regular office hours.
Due to evolving concerns related to the spread of coronavirus (COVID-19), the City of Rector has announced that it will be closing City Hall, and all other City buildings to the public beginning Thursday, March 19, 2020, until further notice.
All public city meetings, including April's City Council meeting, are postponed and will be rescheduled for a later date as the situation evolves.
At this time, all City of Rector employees will continue to report to work, and departments will remain open. The City intends to maintain essential functions and services at full capacity. The public will be able to contact all departments by phone and e-mail. The City of Rector is requesting that residents and other individuals seeking to attend to City-related business do so remotely when possible, online, by phone or through the mail, or delay any business that requires in-person interaction with City of Rector employees until a future date. Individuals encountering urgent, time-sensitive situations requiring the attention of City of Rector staff are advised to contact the appropriate department by phone and your matter will be handled promptly and accordingly.
Rector Police Department: 870-595-2423
Rector Fire Department: 870-595-3035
Rector District Court: 870-595-9805. The Clerk will take calls Monday-Wednesday, 9am–2pm. To make a payment of court fines. You can send via USPS to: Rector District Court, 409 S Stewart St. Rector AR 72461, or make a payment online at www.myfinepayment.com.
City Hall/Rector Water Department/Rector Street Department: 870-595-3035
Payments will be accepted:
• Via the USPS: 409 S Stewart St. Rector AR 72461
• Drop box. Please put payments and the small side of your bill in a sealed envelope with your name and address or account number. We do not recommend paying in cash but if that is your only option, please use as exact change as possible. Any monies paid over your bill will be credited to your next month's bill. The drop box will be emptied periodically throughout the day.
• Thru your banks online bill paying service. The banks mail checks to our office.
If you need to set up new service or transfer service, please call or email the Rector Water Department at 870-595-3035 or rectorwater@gmail.com.
Any City business or business with the Fire Department or the Street Department please call 870-595-3035 or email cityofrector@gmail.com.
As there are no confirmed or presumptive cases of coronavirus in Rector at this time, this measure is precautionary, and intended to help reduce the risk of spreading the virus locally and avoid widespread disruptions to City services. The City will closely monitor the status of coronavirus locally to determine when City buildings can be safely re-opened to the public. The City of Rector is committed to providing timely and up-to-date information to residents regarding the status of coronavirus locally and precautionary measures being implemented by the City. Residents are encouraged to monitor www.rectorarkansas.com for updates or the multiple City of Rector social media pages.